Perfect Pictures
How to take your own family photos



We have a family tradition at our house. The first week after Thanksgiving, we head to a nearby casino. Why? To take advantage of their gorgeous Christmas decorations.

We doll up the kids in holiday outfits & use their tree and Christmas arrangements as beautiful backdrops. We ask the staff if they mind, but they never have. We eat at their restaurant when we're finished, and sometimes even check into their hotel for a family getaway. The pictures are fabulous and the photo shoot is always fun.

Here are some ideas for how to take your own holiday pictures of kids.

Use a digital camera. With a digital camera, you don't need to worry if the kids move. You can see the pictures immediately to see if you have a good shot, never run out of film and you can take them to local photo shops to have them developed for the same price as regular film. Plus, you can crop, alter & tinker with the images. If you don't have one, borrow one from a friend or family member. I've heard they even make disposable ones.


Use public spaces. You'll find wonderful holiday backdrops at shopping malls and other public areas. Go during a quiet time and ask permission if it's appropriate. Most people are friendly and open to the idea.





Use nature. If your climate is cooperative enough, outside areas can be fabulous backdrops. Parks, back yards and city spots like fountains & sculptures all work wonderfully. Natural lighting is flattering and there's no set up or clean up.





Use props. Not only will they look sweet in the pictures, but they give kids something to hold on to and buy you a few more seconds to get that shot. Bring objects that relate to the time of year or just bring something whimsical. Examples are:


Pumpkins, large pine cones and footballs in the fall.
Wrapped fake gifts, ornaments, holiday teddy bears and garlands for Christmas.
Favorite stuffed animals, balls and toys for birthdays.
Flowers, tea party props or dolls for a little girl in summer.

And so on.





Give them commands. Kids sit still for pictures slightly better than they do trigonometry. Distract them with directions. Not only will it keep them sitting for a little longer, but it'll lead to more natural, fun pictures.

Some good ones include:


Have them say Happy Holidays!
Have them hug or ask one to give another a kiss.
Ask a small child to hold up fingers for how old he is.
Have them holler out something funny. They'll be smiling and distracted at once.
Ask toddlers to tell you what a dog says or something else they know. Our kids were always eager to show off what they knew and they'd sit quite a while if we just kept asking questions.
Recruit another adult to distract them with a mini puppet show over your head, funny faces, a bell, etc.



Do it at a good time. Plan the photo shoot for a time when your children are fed, well rested and happy. It won't go well if it's nap time or they're hungry and cranky. If it starts to go badly, pack it up for the time being, go do something fun and get them fed and calm, and try again later. It'll be much easier.


Add humor and originality. Sometimes the best photos are the goofy ones. Let the kids make funny faces or strike flamboyant poses. Arrange them in trick shots. Put the baby in a pumpkin (see the Magical Childhood front page) or a wrapped, open gift box. Wrap them in garland like hostages.





Recruit a friend. If you want shots of your whole family, make a deal with another mom that you'll take pictures of her crew if she does yours. You can do them all at the same time or trade days. Alternately, you can bring grandma or a family friend. Many cameras have timers that will let you take shots yourself, if necessary.


Make them match. Kids don't have to have identical outfits, but the pictures will look better if they're dressed in complementary or matching colors. Try to find a background that coordinates with their clothing too. A few simple colors will help keep your children as the center of attention. If you're using a very busy background you may want to dress them simply. If they're wearing their fanciest clothes, keep the backdrop matching and simple. Keep in mind that kids in black often look like floating heads. :)





Get in close. One of the hallmarks of a good portrait is that the subjects fill up most of the picture. This is another advantage of digital cameras, since you can get as close as you like without going out of focus. Your kids should take up most of the photo. If you get too much background, you can also crop it out before printing.


Expect chaos. Children who are not drugged are not easy photo subjects. It's the nature of kids. Expect as much and prepare to be on your best behavior so they will be too. Approach the day with enthusiasm. Keep it short. Be silly. Give them treats between shots and let them know that you're doing something fun when it's over. Give lots of praise and positive feedback. Let them pick some poses in between yours. If someone starts to have a meltdown, be as goofy, creative or loving as necessary to bring her back from the edge. If you go in expecting as much, you'll be much better prepared to keep everybody happy.


Use sensory distractors. Help them sit relatively still by occupying their senses with other things. Let them chew gum. Give them something heavy to hold in their laps. Give them something to hold that they can fidget with.


Forget the old rules. Most important, don't take traditional mom pictures. Don't make them look directly at you and smile or say cheese. Don't arrange them in forced, artificial poses and have them hold still. Put a rubber duck on your head and have them look at that. Ask them to sing a silly song. Tell them a joke so they're smiling real smiles. Make it fun and real, and you'll love the results.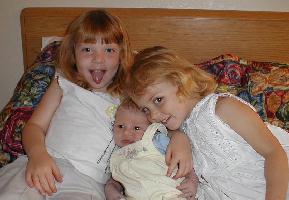 To the Article Index
All works on this site Alicia Bayer unless otherwise noted.
Don't take it - that would be rude.