Squirt Painting
Here's a fun craft using stuff you probably already have in your cupboards.
You need:
flour
water
food coloring
2 or more squirt bottles such as bottles from syrup, glue, ketchup, mustard or chocolate syrup
paper
bowl and spoon
disposable cardboard box (optional)
Mix some flour with enough water to make a thick paint-like consistency. Mix in a few drops of food coloring and pour it into a squirt bottle. Repeat for as many colors as you'd like. We do three.
Place a piece of paper at the bottom of your cardboard box. The box will keep the mess contained. If you like, you can cut off the flaps or cut down the size to make it work best. Or you can skip this step and do the craft outside or over a safe surface. Remember that food coloring can stain, so if this is a problem you may want to tint the flour/water with washable paint instead.
Now let your kiddos drizzle, draw and squirt to their heart's content!
We consider this kind of art "camera art"-- meaning it is too messy to keep forever so we take a picture of each creation and drop the finished creations right into a bag to dispose of. We save out one or two of the best to display all day, though.
ALTERNATE CRAFT:
Another option that's great for little ones is to do the craft in a baking dish and squirt right into the dish. Kids can draw with their fingers in the goop and then you can rinse in the sink and start again.
This can even be done straight onto driveways or patios. Toddlers will enjoy it with just flour and water in a single bottle. Best of all, it's so cheap and easy they can do it again and again.
Note: Squirt paint won't be tasty but it is non-toxic (unless you mix in paint). For babes who eat a lot of their art supplies, you can also make it with baby cereal and water. Sneaky, huh? ;)


---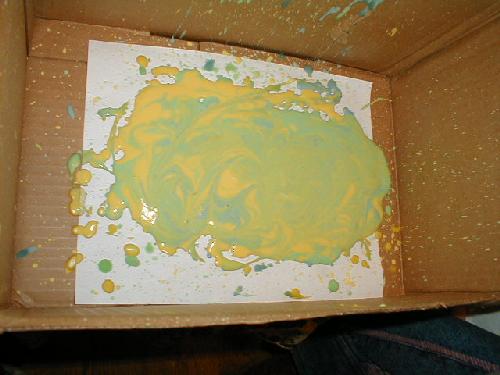 ---
To the Crafts Index
All works on this site Alicia Bayer unless otherwise noted.
Don't take it - that would be rude.